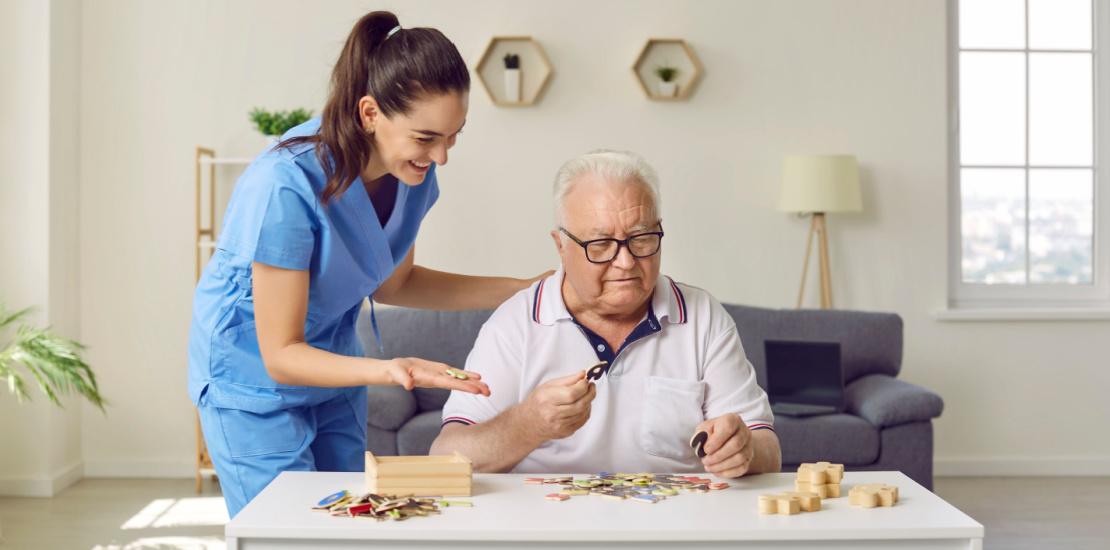 September 19th, 2023
World Alzheimer's Day: How Home Care Services Help Alzheimer's Patients
September is World Alzheimer's Month. The need to spread awareness and ensure that there are channels for proper Alzheimer's care is even more important, especially considering the projected numbers of Canadians living with dementia and Alzheimer's, which is projected to triple by 2050.
To help do our part in supporting and advocating for Alzheimer's care, in this article, we'll cover a more in-depth look at what Alzheimer's is, how World Alzheimer's Day is celebrated, and finally, the importance of Alzheimer's home care.
What Is The Difference Between Alzheimer's And Dementia?
Many people can feel confused about the distinctions between Alzheimer's and dementia. Some people believe the two terms can be used interchangeably. Although the two are related, they're not exactly the same.
Dementia is the term used to describe several diseases that affect memory, thinking, and the ability to perform daily activities. So, you can think of dementia as an umbrella term. There are other forms of dementia aside from Alzheimer's, other forms of dementia include:
Vascular dementia
Lewy body dementia
Fronto-temporal dementia.
Alzheimer's is a form of dementia. It accounts for 60-80% of all dementia cases. Alzheimer's is a progressive disease where nerve cells die in particular regions of the brain. This affects people's ability to remember, speak, think and make decisions.
A Brief History of World Alzheimer's Day
Who Started World Alzheimer's Day and Month?
World Alzheimer's Day and Month was created by the Alzheimer's Disease International (ADI). Introduced in 2012 with the intent to introduce a month's worth of dementia awareness and advocacy around the world.
The ADI is an international organization focusing on public policy and global awareness for Alzheimer's care, treatment, and advocacy. One of the focal points of World Alzheimer's Month falls on World Alzheimer's Day (September 21), when the ADI releases its annual World Alzheimer Report.
How to Celebrate World Alzheimer's Day
Many people around the world celebrate World Alzheimer's Day in different ways. This can be done through supporting your local Alzheimer's foundations, participating in fundraising events like memory walks, volunteering at senior care homes, and spreading awareness about the signs of Alzheimer's.
Each year, the ADI releases a theme for World Alzheimer's Month. This year's theme is 'Never too early, never too late.' This year's theme aims to emphasize the importance of recognizing the early symptoms of Alzheimer's and proactive intervention. Changes in Alzheimer's care to help patients live a more comfortable, fulfilled life.
What Are Some Signs of Alzheimer's?
With this year's theme in mind, it's important to recognize some of the signs of Alzheimer's. If you have a senior in your life, it's important to understand there can be many misconceptions about normal aging and symptom signs.
If you notice any of the following signs, make sure to follow up with a healthcare professional.
5 Signs of Early Alzheimer's
Memory Loss: Memory problems are related to getting older, but someone with early Alzheimer's will forget more major details, context and details more than normal.
Difficulty Performing Tasks: People with Alzheimer's may be confused or mix up steps when doing arbitrary tasks. This can include things such as meal preparation or getting dressed.
Problems With Language: Alzheimer's patients often struggle with their speech. This can vary depending on severity, from forgetting simple words or substituting in odd words. Speech and conversational issues can also lead to a change in social engagement.
Disorientation in Time and Place: It's common for those with early Alzheimer's to forget how they arrived at certain locations, where they are, and how to get back home. Alzheimer's can make it more easy to become lost in familiar places.
Misplacing Things Or Placing Them In Odd Places: Although we all lose things from time to time, people with Alzheimer's can lose or misplace items more frequently and place them in odd places.
The Importance of Alzheimer's Home Care
Handling Alzheimer's care takes a combination of professional training and an empathetic approach. There are many benefits to choosing senior home care for both the individual and the family.
Some areas that an Alzheimer's home care provider can help with include:
Nursing Care
Choosing quality senior home care means looking for agencies with certified and trained nurses.
Prioritizing your loved one's home care can minimize hospital admissions, improve their mental health, and reduce feelings of isolation.
Certain medication conditions like blood circulation problems, stroke, diabetes, and others have been more common in people with Alzheimer's than in the general senior population. Ensuring your Alzheimer's home care provider has experience and can assist with administering medication, diabetes management, ostomy care, and more can be very beneficial.
Personal Care
Daily tasks can become more difficult as we age. This is exacerbated when also trying to cope with Alzheimer's. Many individuals with Alzheimer's need help with daily tasks, such as personal hygiene, assistance with dressing, bathing, applying personal products, and more.
Alzheimer's home caregivers help seniors maintain their sense of independence and live well in the comfort of their homes.
Housekeeping Assistance
One of the biggest challenges of trying to help a senior remain in their home is managing routine household chores and housekeeping. These necessary tasks can begin to pose safety hazards.
Housekeeping assistance helps Alzheimer's clients live safely and comfortably in their homes. This can include tasks such as assisting with cooking, grocery shopping, laundry, and light housekeeping, such as organizing, cleaning, emptying the garbage, vacuuming, and more.
Respite Care
Respite care is a way for caregivers to have temporary relief from Alzheimer's care. A qualified healthcare provider can relieve them of their duties for any time – whether for 2 hours or a week. Respite care has many benefits for the patient and the caregiver, as it allows for an opportunity to rest and relax without compromising on the quality of Alzheimer's care.
Where to Find the Best Alzheimer's Care in Calgary
When choosing an Alzheimer's home care agency, it can feel very daunting and uneasy. But with Umbrella Home Care, we take the time to assess and personalize Alzheimer's care plans for your loved one. Our mission is to support our client's needs across every stage of their life.
If you care for a loved one with Alzheimer's and need assistance, we can provide support through our quality nursing services, personal care, housekeeping assistance, respite care, senior care at home, and more. If you are on the fence about whether or not to acquire senior home care services, Umbrella Home Care offers many resources, like our Senior Home Care Assessment, to help you make the most informed decision.
Contact us at 587-500-4455 or book online for a free in-home assessment with one of our registered nurses.